The intent of the water heating equipment is to supply hot water to the building in designed location at required time. Hot water heater are both vertical & horizontal types. Normally horizontal water heaters are suitable for ceiling installation and vertical can be used as wall or floor mounted. Typically the vessel of the electric water heater is glass lined steel. Heating element are copper sheathed electric immersion type. Each heater is provided with a thermostat with adjustable setting in the range 32 to 60 deg. C and a safety thermal cut out operable at 80 deg C with manual reset.
Selection Of Electric Water Heater
When there is limited adjusting water heater thermostat space and overall maintenance requirements and cost are considered, most households go for the electrical type of water heaters. Energy cost, however, may be higher than the natural gas tank and tankless types. Ultimately, when choosing a water heater, the most efficient source of energy in the area must be considered first. All water heaters must also be of the correct size for the demand that they must meet during peak periods of requirement.
Advertisement: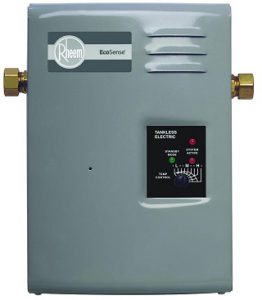 There are also instantaneous or Tankless Hot Water Heaters available that give hot water only when it is needed. These water heaters can produce hot water at a rate of 2 to5 gallons per minute. It is valuable for remote bathrooms and hot tubs. As with any other appliance, there are things to consider before buying it so one must think what type of electric water heater he needs.
Construction of Electric Water Heater
The vessel and electrical components of a typical electric water heater are encased in a sheet metal enclosure suitable for a working pressure of 600 KPa with baked enamel finish.  Tank is insulated with 2-1/2 Inch 'Environmentally-Friendly" Non-CFC foam insulation in order to reduce standby heat loss.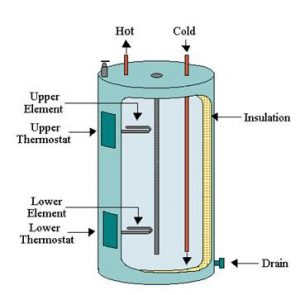 A temperature Indicator mounted on the casing of the water heater displays the temperature of water. Each water heater is supplied with drain cock and 20mm dia safety valve. Discharging to the building waste water drainage system via a floor trap and an automatic air vent.
The domestic electric water Heaters are part of domestic water storage and distribution system. Normally water heaters are provided in the form of package from suppliers that covers supply, install, test and commission all items to comply with the heating design requirements.
Installation Of Electric Water Heater
The contractor or installer ensures that the proposed locations of heaters are adequate and enough space is available for removal of elements and vessel itself for servicing and replacement. All heaters are factory assembled and electrically wired. Installer provides other related plumbing connections like water pipes, pumps, pipe fittings etc.
Water heaters with a capacity of 30 gallons through 80 gallons are evaluated by UL in accordance with Part 280.707(d) (1) of HUD Mobile Home Construction and Safety Standards for Energy Efficiency. For mobile home installations, these water heaters must be installed in accordance with
Section 3280.709 of HUD Mobile Home Construction and Safety Standards for Installation of Appliances.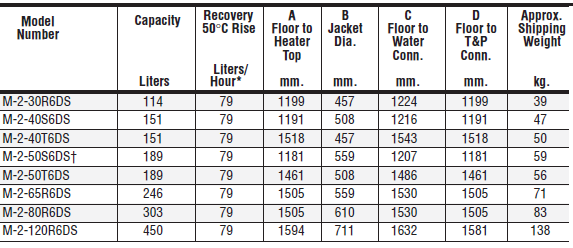 DO NOT locate the water heater where water lines could be subjected to freezing temperatures. Locate the water heater so that access panels and drain valves are accessible. Some models are not equipped with a drain valve. For those models, install a drain tee in the cold water inlet as close as practical to the water heater.
Water heater corrosion and component failure can be caused by the heating and breakdown of airborne chemical vapors. Examples of some typical compounds that are potentially corrosive are: spray can propellants, cleaning solvents, refrigerator and air conditioning refrigerants, swimming pool chemicals, calcium or sodium chloride, waxes and process chemicals. These materials are corrosive at very low concentration levels with little or no odor to reveal their presence.
Damage to the water heater caused by exposure to corrosive vapors is not covered by the manufacturer warranty. Do not operate the water heater if exposure has or will occur. Do not store any potentially corrosive compounds in the vicinity of the water heater.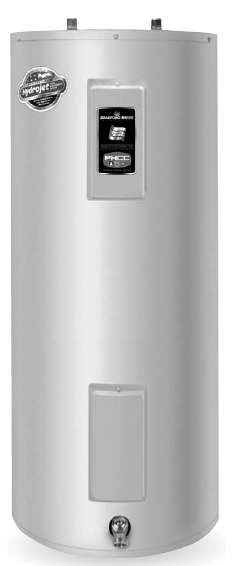 The electric water heater must be located in an area where leakage of the tank or water line connections and the combination temperature and pressure relief valve will not result in damage to the area adjacent to the water heater or to lower floors of the structure. When such locations cannot be avoided, a suitable drain pan must be installed under the water heater. The drain pan must have a minimum length and width of at least 4 in. (10.2 cm) greater than the diameter of the water heater. The drain pan, as described above, can be purchased from your plumbing professional. The drain pan must be piped to an adequate drain. The piping must be pitched for proper drainage.
To comply with NSF requirements the water heater is to be:
a) Sealed to the floor with sealant, in a smooth and easily cleanable way, or
b) Installed with an optional leg kit that includes legs and/or extensions that provide a minimum clearance of 6" beneath the water heater.
For California installation the water heater must be braced, anchored, or strapped to avoid falling or moving during an earthquake.
JOIN FOR LATEST ARTICLES: