Construction methodology or project execution methodology refers to the planned method of construction, taking into account all contractual and legal requirements, construction constraints, risks, and opportunities.  Project Methodology includes the temporary and permanent works and the services required to complete the construction works.
Below is given a detailed methodology for construction of a civil project, which can be used for planning a good project and to show the clients and consultants that a civil contracting company is able to manage a project. This approach can be customized as per site requirements and can help planning & operation departments to prepare a professional construction methodology.
IMPLEMENTATION STRATEGY PLANS & PROCEDURAL APPROACH
This project implementation strategy also called construction methodology provides general information of the methods procedures and sequencing to be used fur the project. Where specific areas of work are of a difficult nature, safety concern or there is a specific requirement a detailed method statement will be prepared in the future
In developing the planning the site location should be considered nod it will be necessary to mobilize and establish at the site various temporary facilities and equipment prior to commencing the works.
It is also necessary to establish and hare certain staff at the site for the works. this will be at an agreed location with the client.
Initial planning, preparation of shop drawings, detailing material procurement and arrangement of sub contractors will be carried out from the head office.
PROJECT CONTROL SYSTEM
The planning and documentation requirements listed here arc considered adequate control for the works and no further criteria for the detailed plans or procedures are deemed necessary. Upon the award of the contract a detailed project quality and management plan would be prepared. This will address in detail the requirements of the contract and specifically the procedures and plans outlined in the various annexure for schedule project control services.
ORGANISATION CHART
The company organization chart of the project shows both the head office personnel and the sue personnel. Initially all administrative and technical personnel would be based at [lie company head office. However when the project is fully mobilized the staff would be located at site.
CONSTRUCTION METHODOLOGY PROJECT PLANNING
The construction methodology or execution planning services will be provided in accordance with contract requirements. The level I works master schedule will be bused on the tender scheme program and will be submitted initially after the contract award. Following the review and approval of the level I program the more detailed levels of programs will be prepared. Project control is required for the following documentation.
a) Shop drawing preparation.
b) Material procurement.
c) Arranging subcontractors.
d) Material delivery
The program dates for these items will he derived from the overall project schedule. Exporting these items from the primavera database to a spreadsheet will be done to implement this. This will allow the preparation of customizable report showing the status on each of these activities. Initially all of the planning activities will be carried out in the company head office using a senior planner.  The work carried out here will comprise of monitoring progress, updating the schedule and providing short term look ahead programs. Actual progress of the works is continuously monitored and compared with the schedule. Vacancies are defined and assessed In case of any delay, a recovery plan is prepared along With costs and resources impact.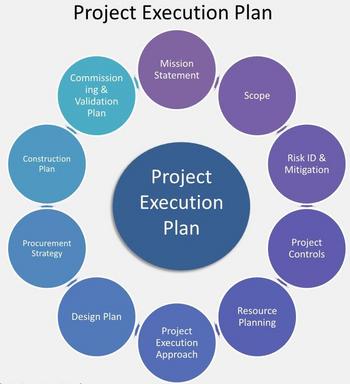 CONTRACT & SHOP DRAWINGS
On the award of the contract the contract-drawing list as per the front index sheet will be prepared as a spreadsheet This will be used as the basis for the drawing register for the project. Additional columns or fields will be added to indicate when the drawing is distributed to a particular party or subcontractor.
In the event that any of the contract drawings are modified and reissued a new entry will be added to the list. The spreadsheet will contain an additional field for the revision number and date. At the start of the contract a thorough review would be carried out of the construction methods. Based on the complexity of the particular work and the level of detail in the contract drawings a master list of shop drawings envisaged will be prepared. Consultation will be held with subcontractors to verify the draft drawing list shop for their work. The master list of shop drawings will include the following information on a spreadsheet
a) Drawing reference.
b) Drawing title,
c) Discipline
d) Drawing originator
e) Preparation date.
f) Issue for approval date.
SUBCONTRACTORS
At the tender stage a preliminary list of subcontractors will be prepared and used for Inquiries. However upon award of the contract a thorough review would be carried out of the list of subcontractors At the start of the project a list of all the subcontracts will be prepared. The scope of work for the subcontractors will be precisely defined and identified by using the bill of quantities stern numbers. The bill of quantities will be prepared on a spreadsheet and this will allow specific activities / work relevant to one subcontract to be edited out. This will provide financial control reporting on information obtained from the spreadsheet. Additional columns will be introduced in the spreadsheet to identify which subcontract the work is allocated to. In the case of one bill item being split between the main contractor and different subcontractors the bill item will be split. The drawings relevant to each subcontract will be identified. A standard form of the contract will be prepared that is specific to the project. This will reflect the contract terms and conditions of the main contract with the client. The standard form of subcontract will identify the facilities, services, temporary works, plant and equipment to be provided by the main contractor and by the subcontractor.
CONSTRUCTION METHODOLOGY PROJECT PROCUREMENT STRATEGY 
This section of the project construction methodology plan covers the procurement of the permanent works equipment, materials and services which can either be arranged as
a) A material supply contract from a local United Arab Emirates company
b) A material supply contract from an overseas company
c) As sub contracted work where the sub contractor provides plant, equipment, materials and labor for the installation or construction.
d) A material supply, which is under prime cost and will be decided during the project.
On the award of the contract a comprehensive list of all the permanent works materials will be prepared along with the work elements to be subcontracted. Based on this list inquiries will be sent out to potential suppliers or subcontractors. Inquiries will include relevant bill of quantities sections, contract drawings, specifications sections and program dates. Suppliers / subcontractors will be given a set time period to respond. This period will depend on the complexity of the supply or subcontractors works. The returned material or subcontract offers will be reviewed for their compliance with the contract documents for quality and ability to meet program. The cost and commercial terms of each offer will be reviewed based on the best quality and ability to meet program and cost. A potential material supplier or subcontractor will be identified and submitted to the client for approval. After approval of the material supplier or subcontractor an award will be made using the standard format terms and condition for the supply. After the award the precise programme dates will be discussed in detail with the supplier or subcontractor. The subcontractor will prepare shop drawings relevant to his scope of work. Once an order is placed, regular follow-ups with the supplier/ subcontractor are carried out to ensure compliance with the delivery schedule.
MATERIAL QUALITY CONTROL CONSTRUCTION METHODOLOGY
In order to establish the required standard of supplied materials samples of the material will be supplied where appropriate. These will be kept on site and referenced as the submission sample. These will be available for inspection by the client and the consultant and can be used in comparison with the supplied materials. On receipt of the product. QC personnel inspect the items to ensure compliance with norms and approvals. This work shall be carried out in advance of the program dates for the main work.
COMMUNICATIONS & INFORMATION TECHNOLOGY
It is imperative that good communications are established between the company head office and the site. A priority will be to establish telephone and fax line connections to the site and this would be done using the best options. To allow the quick and efficient transfer of information between the company head office and the site a dial up internet connection will be arranged with service provider which will allow the transfer of documents us attachments between the head office and the site. On the site a number of desktop personal computers will be provided and these will be connected to a local area network as a peer-to-peer network. This will allow common project documents and information to be viewed after designation of drives or directories are shared. The type of computer software envisaged for the project will be as follows:
a) Windows operating system.
is) Microsoft Office including word, excel and access
CONSTRUCTION METHODOLOGY – COORDINATION WITH SUBCONTRACTORS
Due attention and instruction will be given to our subcontractors in their activities and regular meetings will be arranged to coordinate their works together and with the contractor's main activities as per the program set forth. Upon Nomination, Separate meeting will be held with M.E P. Subcontractor, Aluminum / Curtain Wall Subcontractor and Lifts Subcontractor in order to establish proper coordination between all activities and to follow program of works.
TASKS PERFORMED AT HEAD OFFICE – CONSTRUCTION METHODOLOGY
Engineering:
a) Design and drawing.
b) Technical clarification.
c) Quality plan and procedures.
d) Inspection and test plan.
e) Safety and Environmental manual and procedures.
Planning:
a) Preparation and modification of Master Program.
b) Assignment and control of manpower.
c) Assignment and control of plant equipment.
Procurement:
a) Sourcing and submittal of subcontractors.
b) Sourcing of Material suppliers.
c) Procurement of materials as per site requirement
TASKS PERFORMED AT SITE OFFICE
Site office will carry out all activities necessary to complete the project as per contract requirements. The project manager will be liaising with the head office but will be authorized to communicate directly with the client and the consultant on matters concerning the selection of subcontractors and vendors, the procurement of material / equipment and decisions on Financial matters related to progress payments on to variations. The project manager will follow the general guidelines set by the company management and will report thereto through the projects manager/ management coordinator
CONSTRUCTION METHODOLOGY PROJECT MOBILIZATION PLANNING
 PERSONNEL AND EQUIPMENT
Based on the project schedule, detailed manpower histogram will be prepared for whole period of the project. The histogram is then copied to the Support Service Department to analyze the requirements, coordinate and make necessary arrangements for the availability of the personnel as and when needed. The project manager will review the histogram periodically and instruct update I amendment as necessary. The Contractor has main plant yard in the area. Most machinery. equipment, scaffolding, tools. etc. necessary for the construction are available at that yard. Main machinery (e.g. cranes) will be provided on initial stage of the project. Further equipment will be provided from the plant yard, or hired in particular requirements in line with the works programme.
LIFTING EQUIPMENT
To ensure the programme is aunt it is critical that adequate lifting equipment be available for the lifting of material, equipment, false work and formwork.
Four listed tower cranes would be provided. The proposed arrangements will be submitted in due course.
The tower crane would be utilized for the:
a) Erection, stripping and movement of formwork & lifting of reinforcing bar
b) Lifting & placement of precast
c) Lifting of construction materials and equipment.
Concreting would be carried out by a concrete stationary/ mobile pump as is required and Crane & Racket system. Mobile crane will be provided as and when required. Mobile crane will be used for unloading, loading and other construction activities when the tower cranes are engaged in ocher activities. Following progress of concrete structure personal/material hoist will be fixed.
SITE FACILITIES AND LAYOUT
Temporary (portable) buildings will be installed on site for the Contractors use. Adequate space will be allocated the client and his representative. Those facilities will be separate from the buildings under construction (permanent). They will be established on suitable location approved by the client. Electricity and water wilt be connected for temporary use during construction. Drainage lines wail also be installed and disbursed in sewerage lines if available and allowed.
The site facilities would comprise the following:
a) Main contractor's offices.
b) Subcontractors offices.
c) Carpentry shop.
d) Steel rebar lay down area, cutting and bending areas.
e) Material lay-down area
d) Covered store.
g) Small temperature controlled store.
A detailed site layout plan is submitted separately.
TOPOGRAPHICAL SURVEY & SETTING OUT
Upon award of the contract a request will be made to the client for the survey and setting out benchmarks. This information should be in writing and give the levels and plan coordinates of the benchmarks and their unique reference number. This information will be shown on an overall layout drawing and will be used to plan the establishment of a series of temporary benchmarks for the setting out of the works. These benchmarks will be arranged on orthogonal lines offset from the building edge. Some extra benchmarks will be provided so that in the case of any benchmarks being damaged or disturbed others can be used. A number of survey rounds will be carried out to check the accuracy of the plan and level co-ordinates for the benchmarks. This information will be submitted to the consultant or client for review and approval. Upon approval of the benchmark co-ordinate and level information this will be issued to site personnel for construction. All available drawings and documents on existing services will be thoroughly examined.
GEOTECHNICAL EVALUATION
Upon award of the contract a thorough review will be carried of the site investigation report for any anomalies or inconsistencies on the site investigation report. Any queries on the site investigation report will be raised in writing to the client and consultants. Before foundation work on any structure, a visual inspection will be carted of the formation to check that this is consistent with what was envisaged in the site investigation report. Any differences will be brought to the attention of the client or consultant prier to casting die blinding concrete
SITE ACCESS
Within the Contractors part of the site temporary access tracks will be established to allow safe and easy passage delivery vehicles, plant, equipment and personnel to the building block locations. The transport of small items of construction materials and equipment to the different levels on a building would be arranged by use of an access hoist/ crane. Labor access to different levels on the building would be by the concrete staircase and hoist cranes. Whilst work is being earned onion the staircase adder access via scaffold would be provided.
DEMOBILIZATION
After substantial completion and commencement of testing and commissioning, as built drawings and other documents necessary for maintenance will be provided. The project manager will plan carefully the demobilization on site in order to allow smooth transitioning of the site on time in the client. This will include dismantling and removal of machines, disconnection of temporary services, removal of temporary buildings, stores and associated areas, general cleaning and reinstatement of any sidewalks, services etc. that might be required.
TYPICAL CONSTRUCTION METHODOLOGY TYPES
CIVIL WORKS CONSTRUCTION METHODOLOGY
Contractor will commence the project following the Client's requirements. Upon award of contract site inspection and site take over will be done. Any differences will be brought ho time attention oldie client or consultant prior commencement of works. Site clearance works & excavation for foundations (pile caps) will be done with machines and labor where necessary. Pile head treatment will follow excavation and completion of blinding. Pile head protection will be done in accordance to the drawings and specifications.  Raft foundation (Pile Cap) with he constructed by conventional cast insitu concrete. Certain part of forms will be carried out as solid block work ready for application of waterproofing. Formwork will be prepared on a modular basis and comprise timber facing and timber stiffening horizontal and vertical.
Horizontal waterproofing will be applied to blinding as specified then protected with the cement sand screed before construction activities for raft stab (fixing of reinforcement, forms for construction joints and pouring of concrete). Vertical waterproofing will be applied onto plastered surface of block wall and protected with bituminous boards. Superstructure will be carried our according to the drawings arid specifications. Vertical and horizontal members will be cast insitu concrete elements. Concrete walls will be constructed as an insitu pour cast as a single lift for each level Forms wall be timber suitably braced to ensure proper level and alignment and would ho prepared on modular basis for reuse on each level. Tie rods and supports will be provided to ensure proper alignment and bracing of the shutters.
To ensure the programme is met it is critical that adequate crane is available for the lifting of material, equipment and formwork. Two tower cranes will be provided at appropriate locations which will cover complete plot. The tower cranes would have a span of 30/45 meters. The cranes will be utilized for the erection, stripping and movement of formwork; lifting of reinforcing bars, lifting of construction material and equipment etc.
Concrete pumps will carry out concrete. Simultaneously with the progress of concrete structure first fixing of M.E.P works will follow. Hoists will carry our vertical transportation of material and labor. Erection of hoists will be in several stages following vertical progress of main structure. On completion of concrete works for some of the floors, the block work, plaster and screed work will proceed.
Tiling (ceramic, e.g.) will then proceed. All completed floor tiling will be protected by means of gypsum plaster or plywood covering which will be re moved and cleared before handover. Building finishes will be applied, by completing wet building finishes on one section before starling dry building finishes Where possible building finishes will start from top to bottom to avoid damaging previously completed work. Work will also proceed linearly over a particular part of rooms; wet finishes on half of the block will be completed before dry finishes start. Dry finish like false ceiling, framing carpentry, aluminum etc. will then proceed together with priming for paint.
Commencement of aluminum (Curtain wall will start from the bottom to top. Upon completion half of the concrete structure for building, fixing of curtain wall will start.  Progress of curtain wall and finishes will be followed with the second fixing of M.EP. works.
Installation of chillier units will be advanced in order to commencement air conditioning of certain portions of the building, which can provide completion of all finishes. Installation of lifts will be in advance as soon as concrete structure is finished. Painting will be completed except for the last coat. which will follow the completion of all dry finisher and MEP pre-commissioning activities.
External pavement and kerbstones will commence after completion of external envelope.
Block work Methodology
Detailed method statement nit he prepared specifically identifying material types, quality of finish and other important aspects. Block work will commence upon removal of scaffolding and formwork. Block work in the ground will commence after completion of slab for 2nd floor.  Concrete blocks supplied for site will be certified by Consultant Mortar will be mixed on site according to the specifications and trail mixes approved by consultant's. Standard accessories with approvals by consultant will be used. Alignment and level of the adjacent concrete works have been checked prior to placing block work. Adequate arrangements for curing of block work will be provided according to the specifications All junction details with reinforced concrete frame will be carried out according to the previous approved drawings. Upon completion of block work. Chasing of walls will commence to provide all necessary' conducting. Preparation for plastering, fixing of angle beads and other accessories and applying of rush coat will follow
Plastering
Before commencement of plaster work it will be ensured that block work has been laid to the true line and Level.  All cut outs or voids in the block work will be filled or treated. Block work will be properly filled with mortar and pointed. Required Building services will he installed prior to commencement of plaster work.  Trial panel area of work will completed and approved before commencement of plastering on all areas.
CERAMIC FLOOR AND WALL TILES, GRANITE AND TERRAZZO TILES
Ceramic tiles and fixing method will be as approved by CONSULTANT prior to procurement of same and delivery to site. Detailed method statement will be prepared specifically identifying material types, quality     of finish and other important aspects upon award of the contract. Before commencement of tiling works in wet areas waterproofing of the floor will be tested and approved by consultant.  Pattern of laying tiles will be identified and clearly marked. Also setting out of the tiles level end datum will be established. Tiles delivered to site will be checked for, dimensions, integrity, quality and conformance with the material submission.
PAINTING
The specific methods to be used for the construction activity will be per contract specification and drawings.  Before painting works commence paint system has to be approved. Paint materials delivered to site have to be checked against the material approval. Trial area of painting will be carried out and approved by the CONSULTANT. Before commencement with application surfaces will be dry and prepared for the paint as per manufacturers recommendations. Adequate protection will be arranged to avoid damage from paints spillage. Appropriate clean brushes, rollers or sprayers as required will be available for application of the painting material.
ALUMINIUM WORK
Detailed method statement will be prepared specifically identifying material types, quality of finish and other important aspects prior to commencement of aluminium works. All aluminium works will be carried out by approved subcontractor. Material and system will be as  approved. Materials delivered to site will meet the material approval sample. Workshop drawings have to be approved by consultant. Delivered components to site will be protected from damage due to handling and transportation. Damaged components will be segregated and clearly labeled. Every delivery will contain certification for thickness of protection coatings. Furthermore, dimension of fabricated members will be checked against approved drawings.
SUSPENDED CEILINGS
The specific methods to be used for the construction activity will be as per contract specification and drawings.  Supply and fixing of suspended ceiling system will be carried out by approved subcontractor. Before commencement of works on site materials and suspended system have to be approved by the consultant. Reflective ceiling plan for the layout will be prepared in close liaison with MEP Subcontractor. Co-ordinate mechanical and electrical drawing will be prepared In close liaison with MEP Subcontractor. Adequate supports will be provided for all light fixtures and diffusers. Spacing of supports and installation of system will be carried out in accordance with the manufacturer's recommendations.  Installation level of the suspended ceiling has to be set out according to the approved shop drawings.
EXTERNAL WORKS CONSTRUCTION METHODOLOGY
The external structures will be constructed according to the specifications and drawings. Installation of the interlock paving for footpaths would follow. The method statement for the external paving would be prepared.
Grading to prepare earthworks formation.
Spread granular sub base under paving.
Place kerb bedding.
Lay precast concrete kerb to level and line.
Carry out level and alignment checks and obtain client approval.
Place concrete foundation and haunch backing to kerb. Complete laying of sub base.
Laying of the concrete interlocking pavers would follow.
Advertisement