Following are the templates that you can use for conducting the risk assessments for any kind of activities related to any industry like  manufacturing, production and construction etc. Files are in Word Document format and you can make changes as per your requirements.
1. Hazard Identification Checklist/Form
This is very initial form where you need to identify whether the hazard exists or not and just tick the respective box. For more details on how to identify the hazards you can read our detailed article on risk assessment process step-1. The sample hazard identification and risk assessment form is shown here and also another hazard identification form document is given in word format which you can download by clicking the below link.
2. Risk Assessment Form
After identifying the hazards related to any activity now you need to find out quantitatively the value of initial or actual risk with out any control measures and than recalculate residual risk after suggesting control measures. You will need the risk assessment matrix for finding out the likelihood and severity of the occurance. For more details on how to estimate likelihood and severity of a risk refer to our article on risk assessment process Step-2.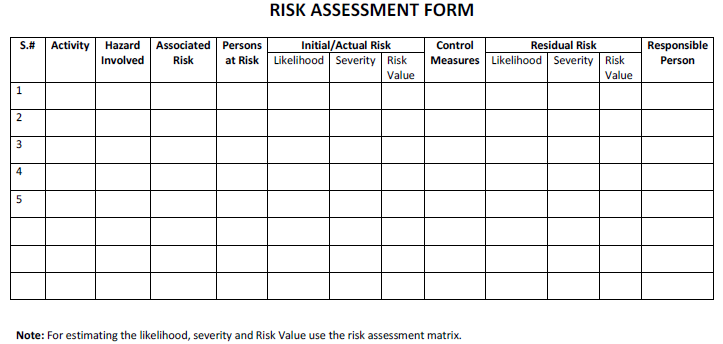 The sample template of risk assessment form  is shown and the same can be downloaded in the word format without watermark by clicking the below link.
3. Risk Assessment Matrix
The risk assessment matrix is used for estimating the probability or likelihood and severity of occurance of an unwanted event. While deciding the value every personnel involved in the activity should be invited to give his opinion and decide about the value. There can be many other versions of the matrix but we found the one very useful that is given below that can be used for health safety and environmental risk assessments. The sample risk assessment matrix is shown to the right and word document of the same can be downloaded by clicking the below link.
I hope by using these three forms you can understand and record your risk assessment properly and a professional way.
Advertisement