As mentioned in one of our previous article "What is Risk Assessment?" it was mentioned that this is a step wise process. Now we shall explain each step in detail to better understand the complete process and making you able to conduct this exercise independently.
Risk Assessment Step 1 : Hazard Identification
The first step to start risk assessment for any activity or situation or process is to identify the hazards that are associated with that activity. At this stage the significance of the hazard is not considered only we need to find out whether this hazard exists or not specific to that activity. Similarly if we are talking about a process hazards can be identified for each activity to complete that process. Remember to record minute hazard even if you think this should not be considered due to its less importance ( you will learn why later when evaluating the risk).
Common Hazard Identified During Risk Assessment
Some of most common health safety and environmental hazards are mentioned below which you should consider while identifying an activity.
Advertisement:
Fall from height or falling objects
Noise
Heat and temperature
Fire and combustible materials
Spillage and slips and trips due to spills
Air Emissions (dust, vapors, fumes, smoke etc.)
Solid and liquid waste
Vibration
Hazardous materials
Confined Space
Electricity/Electrocution
Flammable Materials
Chemicals
Paints, adhesives, thinners
Land contamination
Lone Working
Manual Lifting / Ergonomics
Excavation/Trenches
These are few to be named and there can be many more depending upon the type of activity you are going to analyze. I recommend to use a check list to record your observations and involve as many people as you can who are having past experience of the same process or activity. Involving the most relevant people while doing risk assessment is the key for effective implementation of control measures and providing safe and healthy environment.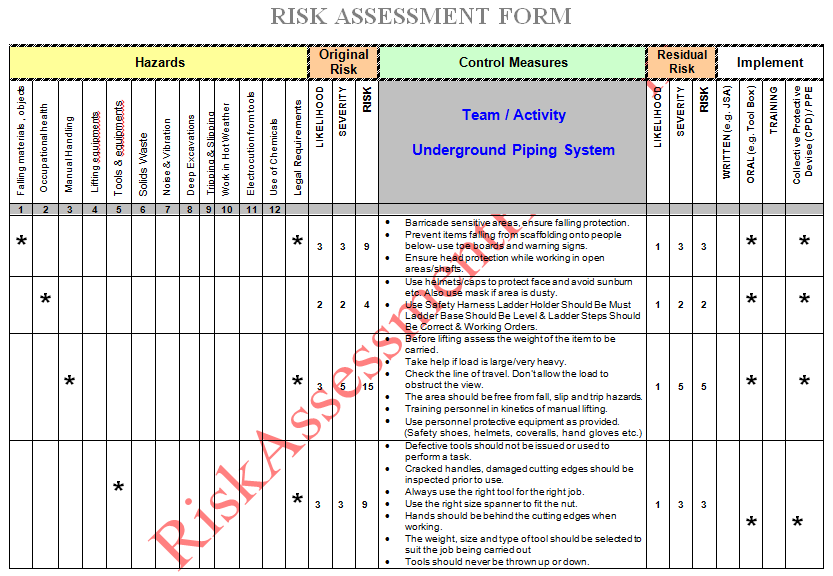 Other examples of workplace hazards may include frayed electrical cords that can result in electrical shock, boxes stacked improperly that can fall on someone, noisy machinery that can damage your hearing.
You can download above form from below link:
JOIN FOR LATEST ARTICLES: