Pre-Commissioning Procedure
Before starting the commissioning activities check and ensure that bypass Terminal Reheat units are installed as per the approved shop drawings and manufacturer's instructions and approved. Check that sensing grids tubing connection from the grids to the transducers are correct & secure.
Advertisement:
Check for proper mounting of the actuator on the body of Bypass Terminal Reheat units. Check that the thermostat as per approved material submittal are installed. Check duct connections and grilles are installed as per approved shop drawing and cleaned internally and externally.
Check all VCDs, BDs and fire dampers are in open state. Ensure that the pre-commissioning and commissioning of AHU is complete in line with the approved procedure. Check and ensure that the thermostat LCD display features are in line with approved material submittal.
Commissioning Procedure
Ensure that all the pre-commissioning checks are carried out successfully. Ensure that the AHU is operating and sufficient air flow is obtained at the suction of the Bypass Terminal Reheat units. Check for proper suction and discharge of air through Bypass Terminal Reheat units.
Change the thermostat setting and check for the modulation of the damper in the Bypass Terminal Reheat units. Check for the proper operation of the actuators. Check the entry of air through the induction port using a rotating vane anemometer. Measure and record the value due to changes in the thermostat setting in form.
Check for any undue vibrations / noise. Complete air balancing of the entire HVAC system shall be carried out in line with the approved procedure. During air balancing the Bypass Terminal Reheat units flow rate shall also be measured and recorded in the performance record sheet. Configure the input / output settings in the DDC program.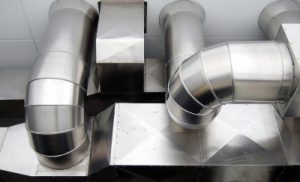 Download the DDC program to the DDC controller. Check the space temperature and set point through thermostat. Check the modulating action of the Bypass Terminal Reheat units damper actuator as per the required cooling set point of temperature. Check communication of all VAVs from the Building Management System (BMS) Supplier end and it should be able to access all the data points of each VAV controller through BMS.
Operation Demonstration Procedure
The final tested results are demonstrated to the accepting authority on a random spot check basis, and that repeat-ability of readings is proven within the accepted tolerance. Submittal of all records of data obtained during Pre-Commissioning & Commissioning in accordance with Project Specification, and on the approved forms. Preparation of report of recommendations for correcting any unsatisfactory performances when system cannot be successfully commissioned.
JOIN FOR LATEST ARTICLES: