Advertisement
Method Of Statement For Installation of GI Conduits & Accessories For Electrical Works is given below for the reference of our visitors if you want to use this method statement for your own work or company you can follow the complete method statement template and just include the below method statement in Installation section.
For more detailed method statement for both PVC & GI method statement for conduit installation you can visit this detailed method statement for conduit installation.
Installation of G.I Conduits & Accessories
Surface conduits shall be heavy gauge galvanized after fabrication rigid steel Class-4 manufactured in accordance with BS 4568. Conduits and elbows shall be from same manufacturer.
Set out the proper location, elevation, and conduit routing on the walls and slab soffits as per project specification and approved shop drawings.
Mark the location of conduit routing as per approved shop drawings. Coordinate the installation of conduits & wiring devices boxes with other trades where applicable
Conduits shall not be allowed to run exposed in any finished areas. All areas shall be considered finished unless otherwise indicated. Electrical and mechanical rooms shall be classed as unfinished areas.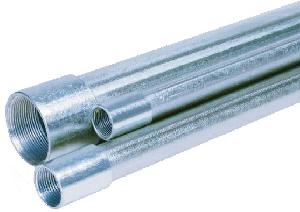 Exposed conduits should be installed in groups, parallel to building lines and accurately in line and level. Conduits shall run from box to box, box to panel, pull/junction box and shall be secured to all boxes with lock nuts in such a way that the system shall be electrically and mechanically continuous throughout its length or span.
Exposed GI conduits shall be supported by using approved saddles, while distances shall be maintained as per project specification and as per manufacturer's recommendation.
Clamps shall be attached to the masonry walls by means of expansion shields. Approved beam clamps or equivalent should be used to attach conduits to exposed steel work.
All bends and offsets of galvanized iron conduits shall be done using manual bending machine properly and care shall be taken while bending the G.I. Conduits to ensure no flattening or denting to be occurred.
Suitable G.I covers shall be provided for conduit fittings of all exposed G.I. Conduits.
When installed under covered at wet external area, it shall have water tight sealed joints.
Respective type of fittings shall be used for particular purposes as per project specification and manufacturer's recommendations.
Running couplers with lock nuts shall not be permitted only three-piece conduit unions shall be accepted.
Pipe sleeves shall be installed and properly secured at all points where conduits pass through masonry, or concrete. Pipe sleeves shall be sufficient diameter to provide approximately 15mm clearance around the outside wall. Pipe sleeves through concrete floors shall be steel pipe and shall be installed 25mm above finished floor and shall be fire stopped after conduit is installed.
Fix the sleeves, if any, as per approved shop drawings and specification, during the construction of structural elements.
Raise request for inspection of levels and location of sleeves installation as per approved shop drawing and specification to the consultant consultant.
Ensure exposed G.I. Conduits are installed only in allowed areas i.e. plant rooms of the buildings or the areas which are allowed or approved for exposed conduiting work i.e. lobbies or corridors etc.
Install conduits so that there is no interference with access openings in ceilings, removal of ceiling tiles, or access to equipment in the ceiling space.
No conduits shall be installed within 150mm of gas & water pipes, where the crossings are unavoidable a minimum distance of 150mm shall be maintained from pipe covering.
Nylon fish cord shall be installed in every empty conduit with end caps and bushing at both ends as per project specification.
All the conduits shall be provided with identification as per project specification at both ends of the conduit runs immediately after installation for easy identification purposes. Separate conduits shall be installed for each circuit as per specification.
During construction identify all conduits with sprayed on color at both terminations immediately after installation. The following color code shall be used generally or as per project specification:
Electric Power : Black
Fire Alarm and Smoke Detection : Red
E.L.V. System : Yellow
Isolated or Ungrounded Systems : Orange
Earthing : Green
Check if any damages are occurred on the conduits during the construction activities, the same shall be replaced as per approved shop drawings.
Sufficient draw-in boxes shall be provided to permit easy wiring. The following shall also apply:
| | |
| --- | --- |
| No. of right-angled Bends | Max. distance Between draw boxes |
| NIL | 10 m |
| 1 | 10 m |
| 2 |  6   m |
Pull boxes shall be provided for the easy wiring and distance shall be maintained for pull box location as per specification. The whole conduit system shall be effectively earthed.
Raise inspection request when work is completed for Installation of G.I Conduits and Accessories to the consultant/client.
Advertisement