This method statement for installation of medium and low voltage switchgear and panels boards on site is prepared to define the method used to ensure that all MV/LV switch gear and panels site assembly, installation, final connection and workmanship is correct and acceptable and conforms to the contract documents & electrical specifications.
Site construction Manage, electrical engineer and Quality engineer are responsible for site implementation of below method statement.
Pre Installation Checks
Prior to the commencement of any works, access and installation areas will be inspected to confirm they are in a suitable condition to commence installation.
Housekeeping pads or pertinent structure are complete and leveled within (±5) by civil contractor, for all plinth sizes.  Site supervisor to carry out pre-Installation Inspection of switch-gear panels plinth prior to off loading and positioning in accordance with.
Construction department will ensure temporary protection is provided to protect the openings during installation and until the final connections are made to the Motor Control Centre.
Check equipment schedule for correct location and reference for the switchgear and panels. If the switchgear or panels cannot be installed immediately, then the same shall be stored in clean, dry and properly ventilated location.
Switchgear & Panels Installation Procedure
Fully crated switchgear or panels shipped on a timber sub-base will only be lifted under the sub-base, in between the bearers, using soft sling's (Nylon webbing) with spreader bars on the topside of the crate.
When transferring to a fork lift, or unloading with a fork lift, the mast must be as close as possible to the face of the crate. Forks must be fully projected under the crate.
Lift switchgear or panels squarely, then tilt back towards the fork lift before moving.
When the switchgear or panels has been moved its final destination, it will be un-crated, unpacked and removed from its timber base.
Lower switchgear or panels onto lengths of steel conduit or skate (rolling devices), for movement to final location.
Care will be taken to ensure the switchgear or panels does not overbalance whilst being moved to its final location.
Once in its final location on the "Housekeeping Pad", rolling device's will be removed from under the switchgear or panels. Again caution will be exercised against over balancing, while the panels are being moved.
Finally the panels should be free standing, self supporting assembly, and will be bolted to the "Housekeeping Pad" with anchor bolts ensuring the assembly is horizontal and vertically in alignment as detailed on the construction shop drawings.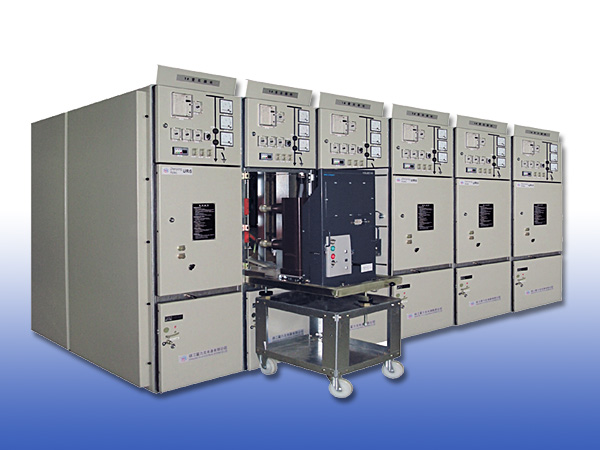 Assembling the Switchgear & Panels At Site
When the switchgear or panels are shipped in more than one module, it will be necessary to bolt in individual section together, in the presence of manufacturer/supplier representative.
Construction drawings will indicate the relative positions of each section being supplied and shipped.
All fishplates to interconnect bus bars will be carefully installed after removing the appropriate cover plates.
All connections will be torqued to the required figure as per data from the manufacturer.
Busbar Assembly Torque Data: Torque setting for fault level Bus-Bars using ISO M8.8 graded cadmium plated bolts or set screws.
M6 Bolt or set screw                                          7 lbs ft. 8.6 Nm
M8 Bolt or set screw                                          15 lbs ft. 20.4 Nm
M10 Bolt or set screw                                        23 lbs ft. 33.6 Nm
M12 Bolt or set screw                                        40 lbs ft. 54.0 Nm
M8 set screw into Brass Pittar                           15 lbs ft. 20.4 Nm
Termination Of Incoming Cables
The switchgear or panels shall be provided with terminals for both power and control cables. The terminal will be positioned in such manner as to facilitate optimum access to suit the specified type of entry. As detailed on the construction/shop drawing.
Operate all components (i.e.. fuse switches, circuit breakers, contactors, relays etc) by hand to ensure that there are no damage to the moving parts.
A thorough inspection will be carried out to determine that no foreign matter (tools etc) have been left in the panels after field installation is completed.
Particular attention will be given to the Busbar compartment, ensuring it is free of debris and moisture. All compartments shall be thoroughly cleaned.
All busbar and circuit connections shall be checked carefully to find these are tightened and torqued from the factory, as it is possible for connections to vibrate loose during shipments.
All connections are checked for tightness/torque prior to energization in accordance with the manufacturer's recommendation.
All components/door interlocks should be adjusted correctly and must operate freely.
After the above operations, all doors are closed and locked and keys should be maintained by the supervisor until panel is ready to handover to the commissioning team.
Testing Of Switchgears & Panels
All site testing for will be carried out as per specifications and manufacturer instructions.
The supervisor in charge and the QC officer will continuously monitor the activities to ensure that all components on the approved construction drawings and coordinated service drawings have been installed and that the panels installation is completed in accordance with the contract requirements and manufacturer's recommendations.
All the necessary records shall be maintained as per approved standard formats.
Advertisement