Fire Alarm system includes Fire detection and alarm system. Manufacturer for the Fire Alarm system is Simplex -USA. Fire Alarm system devices are UL and ULC listed and meets NFPA 70, Article 250, NFPA 72, NFPA 780 & EN 60 8 49 standards.
The Panel used is Simplex model 4100ES with processor capacity of 2500 points is provided with LCD display and common trouble & fault LED displays.
Advertisement:
The panels are provided with power supply unit, charger & standby batteries as per the Battery calculation. The panels are microprocessor based and fully field configurable and programmable.
The following peripheral devices are used in this system:
Smoke detectors,
Heat detectors,
Manual call points,
Sounders
The devices/peripherals (Smoke detectors, heat detectors, break glass) are connected in Class A circuit with the Control Panel's.  The sounders with strobe devices are connected in separate circuit.  The system provided is fully addressable to the main fire control panel, FACP. The fire alarm system shall have its own redundant battery backup for 24hrs.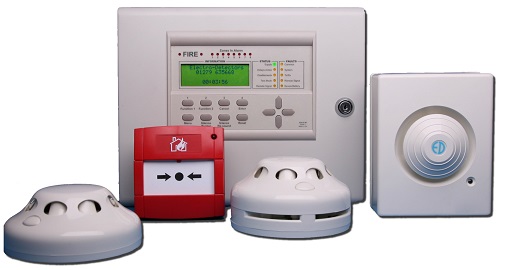 fire alarm system checklists
Below is a simple T&C report which can be further customized as per any project requirements. A complete method statement with all checklists for fire alarm system is also available on our website.
Testing & Commissioning Report

System :   Addressable Fire Alarm System (Simplex-4100U)

Project                            

Electrical Contractor     : 

System Supplier             :  

S.No
Item
Remarks
1
Type of Fire Alarm Control Panel
Simplex-4100U
2
FACP Location
3
Number of IDNet Loop
4
Number of Speaker/sounder circuits
5
Type of Cable
FP-200
6
Termination of  Cables
TESTING
1
Response of Smoke Detector Test
2
Response of Heat Test
3
Response of Break Glass Test
FUNCTIONAL TEST
1
Function of LEDs of Fire Panel
2
Function of Fire Panel Buzzer
3
Function of Fire Alarm Speakers
4
Function of Audio Microphone of Fire Panel
5
Open Circuit Status
6
Function of Interfaces.
7
240 V AC Mains failure status
8
Battery Disconnected status
Supplier
Contractor
Consultant
Signature
Name
Date
JOIN FOR LATEST ARTICLES: