1. PURPOSE
This method of statement covers the on site installation of the compressed air piping system for the operation of the chillers. This will include:
Power Plant Compressed Air Systems
Factory assembled packaged air compressor complete with
–  Rotary screw air compressor
–  Receiver
–  Filtration facilities
–  Instrumentation & Control Panel
2. PRE REQUIREMENTS – GALVANIZED PIPEWORK
All materials and documentation relevant to a particular section of works will be checked by the Construction Department prior to the commence of work ensuring that these are of the correct type as reviewed by the client.
Prior to the commencement of any construction activity, areas and access will be inspected to confirm that they are in a suitable condition for construction works to commence.
Before commencement any construction activity, pre-inspections will be carried out on all material prior to them leaving the storage area.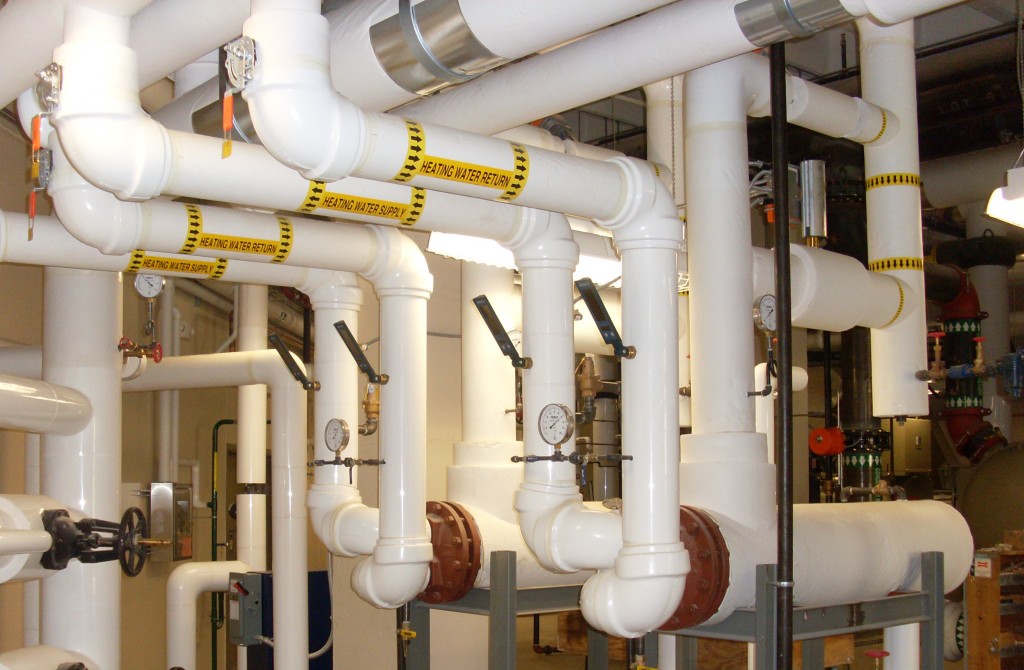 3. INSTALLATION METHOD STATEMENT
Ensure that horizontal and vertical pipe runs are correctly aligned and supported as indicated in the table below for galvanized pipework.
NOMINAL BORE

 OF PIPE

INTERVAL FOR

 HORIZONTAL RUNS

INTERVALS FOR

 VERTICAL RUNS

mm

m

m

15

0.75

1.5

22 to 28

1

1.8

28 to 35

1

2

42

1.2

2.4

54

1.4

3.5
Pipework will be installed with falls not less than 1 in 80 in the direction of flow.
Drainage points will be installed at intervals not exceeding 30m.
Drain sets will be piped to the nearest suitable floor waste.
3.1 JOINTING PROCEDURE FOR GALVANIZED TUBE
Screwed pipe work and joints up to and including 50 mm mild steel pipe.
Pipe ends will be threaded by the use of an appropriate threading machine.
The machine die head will be suitable to cut tapered type threads.
Threads will be cut to the correct thread length.
After the suitable thread has been cut, burrs, surplus oil and swarf will be removed prior to the selected fitting being screwed in place.
Threads shall be applied with thread joint compound of the approved type.
By means of an appropriate pipe wrench, the selected fitting will be screwed onto the pipe thread to the correct tightness required without causing any damage to the pipe/fitting.
When pipe and fitting is fully tightened, clean of any excess jointing compound, and paint exposed threads with approved cold  galvanizing compound. 
4. FINAL CONNECTION
Final connections to compressor will be full line size flexible connections of type shown on the construction drawing located as close as possible to the compressor.  Ensuring pipework is adequately supported independently to the flexible connectors.
5. PRESSURE TESTING PIPEWORK
Prior to the start of pneumatic testing all other works on the system will cease and personnel adjacent to the area will be informed of the intention to test.
Pressurization equipment will be connected to the system with a pressure gauge to register line pressure, isolated from the equipment.  Test will include safety release valve.
The test pressure will be 1.5 times the system working pressure held constant for 30 minutes.  This will be attained by raising the pressure equally in three stages.
During any of the three periods if a leakage is apparent in the system it will be identified and logged, but no remedial work undertaken.
All remedial work will be carried out after the system has been bleed to atmospheric pressure.
Upon completion of any remedial work the system will be re-pressurized as before.
When the system is charged to its test pressure the air temperature in the system must be allowed to stabilize and the pressurization equipment disconnected.
6. EQUIPMENT INSTALLATION METHOD
All documentation and certification relevant to the Packaged Air compressor will be checked by the Construction Department prior to the commence of installation, ensuring that they are of the correct type as review by the client.
 All lifting and handling procedures will conform to the manufacturers instructions ensuring at all times that Packaged Air Compressor is not subjected to undue flexure and stress.
Compressor and associated equipment will be carefully plumbed and aligned, then bolted and securely anchored to "Housekeeping" pad.
After alignment is completed supervisor in charge is to ensure that vibration isolators are of the correct deflection.  Final adjustments will be made at pre-commissioning stage.
It will be ensured that all completed installations look neat and tidy, and that there is adequate spacing between pipe lines and other services allowing access for operation and ease of maintenance.
The supervisor and the QC officer will continuously monitor the activities to ensure that all components indicated on the approved construction drawings have been installed and that the installation is in accordance with the contract requirements and manufacturers recommendations.
All completed installation work will be protected to avoid damage.
 7. SAFETY AND ENVIRONMENTAL CONSIDERATION
In ordered to ensure that all compressed air system works to takes place in a safe manner, tthe company will consider suitability of the following:
Work on height
Tools
Welding
Pressure test
Work on height
Stand or erect towers on firm base or level ground
Brakes on castors are always using
Secure the tower scaffold to the structure if necessary by ties
Unsound ladders shall never be used
Lean sideways from ladders is forbidden
Ties to be fitted all the time with right length
Regular inspections will be done for ladders & scaffolds by competent persons
Use Of Suitable Tools
Always right type of tools for the job will be used
Correct size of hand tools will be used for the size of the job
Defected tools will be rejected immediately
Only earthed tools shall be allowed to use
Damaged tools are not allow to use before repairing
All electric stuff must be in good shape
The power tools will be inspected regularly by competent persons
 Welding
The welders to be trained and certified for the job, must be in good health and trained for safe work.
Correct face shield or goggles must be used in accordance with the type of welding
Leather gauntlet gloves be worn during the welding
Welding curtains to be used to protect neighboring workers at all the time
All Oxygen cylinders to be black, out let threaded is right hand, Acetylene cylinders are brown, out let threaded is left hand, and propane cylinders are blue, out let threaded is left hand.
Regulators must be always fitted in good condition
Hoses to be in good condition and in standard color code: Red for fuel gasses and Blue for oxygen
Non return valve will be fitted all the time and flash- back arrestors if available
Non defective torch will be using
Fire extinguishers in the welding area are required all the time
Avoid welding near flammable materials
Torch should not be left unattended
Welding area will be checked before leaving to make sure there are no source of fire or heat
Monitor the welding area for gasses using online gas monitor
Pressure test
Testing area will be secured from passing workers/neighbors
" DANGER HIGH PRESSURE" warning signs to be displayed
Communication system will be used if required in noisy area
Only authorized personnel to be present in the pressure testing area
8. RECORDS & REFERENCES
Equipment Factory Test Certificate
Compressed Air System Check List
Pipework Pressure Test Certificate
Approved Construction Drawing
Manufacturer – Instructions for Package Air Compressors
Advertisement