Construction Supervisors to ensure that all ductwork and insulation have been inspected and signed off by the client prior to the installation of diffusers, grilles and louvres to the HVAC ducting system.
It is also responsibility of site engineer and supervisor to ensure plenum or terminal box openings are compatible for diffusers, grilles and louvres (D.G.L.'s) to be installed.
Advertisement:
Installation Method Statement for Diffusers, Grills & Louvers
Volume control dampers will be installed for all inlets and outlets including concealed adjustment devices, which should be accessible without dismantling any plant, these will be shown on the contractors as built drawings and in general will be incorporated within the component that will have all internal sections painted matt-black. Prior to installation it will be ensured that Plenums are correctly acoustically lined.
During unpacking of DGL's care will be taken to avoid damage to the finished face of DGL's and if any damage is noticed the supervisor will inform engineer to get the replacement.
All  diffusers, grilles and louvres will be checked against the relevant schedules by the construction supervisor prior to the commencement of installation, ensuring they are of the correct type and size as reviewed by the client/consultant. All material must be pre approved by consultant.
Install subframe in the duct opening as manufacturers instructions and ensure that D.G.L.'s shall be installed correctly as per the direction of air flow.
Prepare D.G.L.'s by installing sealing material to the internal side of the mating flange, carefully locate D.G.L.'s into subframe and locate locking screws and tighten until correct level and the alignment is attached.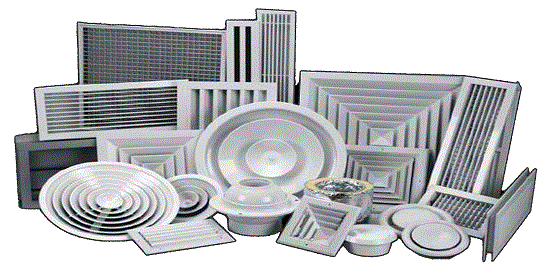 After final alignment, carefully tighten the D.G.L.'s until an airtightness is achieved.
Before leaving each installation of a D.G.L. ensure it is undamaged, clean and screws are tight.
Ensure that all D.G.L.'s are left in closed position and protection shall be provided until handover.
The supervisor in charge and the QC Engineer will continuously monitor the activities to ensure that all D.G.L.'s and components indicated on the approved construction drawings have been installed and that the completed installation is in accordance with the contract requirements and manufacturers recommendations.