1. Purpose
This method statement covers on site fahu and ahu installation and connection to piping and ducting for pre-assembled AHU's i.e. Air-Handling Units.
Advertisement:
2. Scope Of Work
This procedure is applicable for the project to ensure that all Air Handling Units ahu installation, final connections and workmanship is correct and acceptable and conforms to the contract documents, specifications and manufacturer requirements
DOWNLOAD METHOD STATEMENT FOR INSTALLATION OF AHU & FAHU IN WORD FORMAT
3. Responsibilities
Project/Construction Manager
Mechanical Engineer/Supervisor
Quality Engineer
4. Pre Requirements for fahu ahu installation
All materials and documentation relevant to a particular section of works will be checked by the site team prior to the commence of work, ensuring that these are of the correct type as reviewed by the client.
Prior to the commencement of any works access and installation areas will be inspected to confirm they are in a suitable condition for installation works.
"Housekeeping" pads or pertinent structure are complete and leveled.
Temporary protection must be provided to protect the openings during installation and until the final connections are made to the Air Handling Units
Equipment schedule must be checked for correct location and reference for the Air Handling Unit.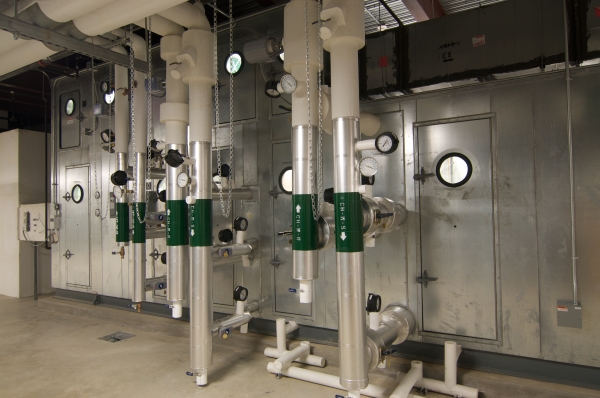 5. Method Statement For fahu AHU Installation
All lifting and handling procedure will conform to the manufacturers instructions ensuring at all times that Air Handling Units are not subjected to undue stress.
Units will be carefully plumbed and aligned by use of blocks and shims, then fully bolted and securely anchored to "Housekeeping" pad.
After alignment is completed supervisor in charge will ensure that vibration isolators are of the correct deflection.  Final calibration will be made at pre-commissioning stage.
Whilst making the final connections to units flexible connectors will be full line size of the equipment connection and fitted as close as possible to the source of vibration, ensuring that pipework is adequately supported independently to the flexible connectors.
All Air Handling Units will be protected on site in accordance with the client requirements and site situation.
DOWNLOAD METHOD STATEMENT FOR INSTALLATION OF AHU & FAHU IN WORD FORMAT
ASSEMBLY OF HORIZONTAL SECTIONS 
Identify that the correct sections that are to bolted together.
Position fan section on housekeeping pad.
Install gaskets at all bolted joints that is required to be joined.
Position the next section, to be joined, carefully on housekeeping pad, align the two sections.
Jointing brackets will then be used to externally join the sections together.
The supervisor in charge and the QC engineer will continually monitor the activities to ensure that all components indicated on the approved drawings have been installed and the installation is in accordance with contract requirements and manufacturers recommendations.
 6. SAFETY AND ENVIRONMENTAL CONSIDERATION
 7. RECORDS
Air Handling Units fahu Installation Check List
AHU Factory test Certificate
Approved Drawing
Manufacturers Handling and Installation Instructions
DOWNLOAD METHOD STATEMENT FOR INSTALLATION OF AHU & FAHU IN WORD FORMAT
JOIN FOR LATEST ARTICLES: